Out of a Clear Sky
Dec 07
"Quite honestly the thing that interests me the most about her relationships with Gale and Peeta is that they're completely organic to the situations. That in the beginning of Catching Fire, she wants to forget her time in the games and go on with her regular life, which means she will be pushing herself away from Peeta because he's a reminder of the Games, and growing closer to her childhood friend Gale because he reminds her of home. But when she's thrown back into the Games, she's pulled away from Gale and pushed back towards Peeta, because she finds comfort in him having shared the trauma of the Games. But I never, for one minute, think that she sits around debating who she likes better.
She doesn't have time for it." — Francis Lawrence, the he-fucking-gets-it director for Mockingjay and Catching Fire (via jerichoes)
(via exsequar)
Dec 06
"

And while we're on the subject, I'd like to say a few words about escapism. I hear the term bandied about as if it's a bad thing. As if "escapist" fiction is a cheap opiate used by the muddled and the foolish and the deluded, and the only fiction that is worthy, for adults or for children, is mimetic fiction, mirroring the worst of the world the reader finds herself in.

If you were trapped in an impossible situation, in an unpleasant place, with people who meant you ill, and someone offered you a temporary escape, why wouldn't you take it? And escapist fiction is just that: fiction that opens a door, shows the sunlight outside, gives you a place to go where you are in control, are with people you want to be with (and books are real places, make no mistake about that); and more importantly, during your escape, books can also give you knowledge about the world and your predicament, give you weapons, give you armour: real things you can take back into your prison. Skills and knowledge and tools you can use to escape for real.

As JRR Tolkien reminded us, the only people who inveigh against escape are jailers.

" — Neil Gaiman, from theguardian.com (via thematterofperception)

(Source: thensiur, via lindelas)
Dec 01
Catching Fire (the film) (FULL OF SPOILERS) -
There is so much to love about the Catching Fire movie. Just like the first Hunger Games film, it was a brilliant adaptation of a brilliant book. In fact, I would put it up there with Holes and The Lord of the Rings, which is saying a lot.

For one thing, it is incredibly well-cast.

Jennifer…
Reblogging myself because in my excitement I posted this with some names of actors missing.
[video]
Nov 30
[video]
Catching Fire (the film) (FULL OF SPOILERS)
There is so much to love about the Catching Fire movie. Just like the first Hunger Games film, it was a brilliant adaptation of a brilliant book. In fact, I would put it up there with Holes and The Lord of the Rings, which is saying a lot.
For one thing, it is incredibly well-cast.
Jennifer Lawrence cries and screams a lot in the movie, which I think is completely to her credit. It shows that she understood exactly what the point of the second part of the trilogy is about: Katniss is desperately trying to cling on to the people and places that are important to her. She is trying to let go of the horror she experienced in the arena. She feels herself being moved like a pawn, and her recent trauma and fear of harm to her family makes her willing to be a pawn. Throughout the second installment of the trilogy she starts to lose her grip on everything, and realizes just how powerless she really is. I thought all of the choices Lawrence made about Katniss's reactions were spot-on. It did lead to a lot of shrieking and crying, but I think that's exactly how Katniss would react to what's happening to her. Part of what makes her such an interesting character is that she is both emotional and strong.
Because of those acting choices, the last frame of the film is incredibly powerful. Katniss tried to protect Peeta, even being willing to go so far as to sacrifice her own life. She wanted to avoid violence and war at all costs, but she also wasn't willing to be a pawn anymore. But she realizes that she has been a pawn all along, just not for the chess-player that she thought was moving her across the board. Her district is rubble. Peeta is captured. And we see in her eyes, in her entire face, the total despair that comes from the realization that you are utterly powerless. And then we see the shift that the whole movie has been leading up to: furious, unshakeable resolve. It doesn't mean she won't feel weak and powerless again, but in this moment, she knows one thing: she will not be a pawn anymore. She will make her own choices from now on.
Everyone involved with the film did a beautiful job making sure that this crucial character arc came off in the film. It was wonderful to watch.
Josh Hutcherson also deserves a lot of credit, too. He takes a character who could easily have come across as a two-dimensional sweetie and makes him a full-bodied, multi-dimensional loving person.
All of the actors in the supporting cast are brilliant as well. Stanley Tucci and Elizabeth Banks both give differently beautiful performances as privileged capitol dwellers who begin to feel their consciences stirring. All of the other victor-tributes are fantastically well-cast. Every single one of them captured their characters exactly the way that I, at least, saw them in my mind when I read the books. And I don't mean physically, although that, too: they really nailed the complexity of the tributes who are playing a dangerous game of starting a rebellion while keeping their key player—Katniss—in the dark. Finnick's reaction when he sees how much Katniss loves Peeta was particularly moving to me. Sam Claflin and the director were so brilliant to put that reaction in, because in hindsight audience members can realize that the look of sadness and regret that pass across his face are because he knows Peeta might be a casualty. He and all the others must regard Peeta as expendable if they need to, in order to save Katniss. And Finnick wishes that weren't true.
I've chosen to highlight Finnick but I could just as easily highlight beautiful moments from any of the other tributes.
I do have to pause and acknowledge Lenny Kravitz as Cinna. I don't know if this is what he was going for, but what I saw in his performance was a man on a suicide mission. All the moments that we see him around the making of the dress, I felt I could see in his eyes that he knew he might be a dead man. He knew that dress might be the last thing he ever designed. But he was willing to risk his life to give the people a symbol of hope and rebellion. He knew that something as small as a woman in a dress could make all the difference, and he was willing to die for that. What a brilliant choice that illuminated a really subtle aspect of the book beautifully.
The whole movie was incredibly engaging. I loved that it was willing to start slow and really explore all the complex ideas at play in the story. I loved that it was willing to spend time in District 12 and with President Snow in his stately home to make sure we understood what's at stake. By the time Katniss fires her arrow into the prime symbol of the capitol, the force-field keeping her and her fellow tributes caged in the arena, we understand exactly what it means. We understand that it means one small person turning to the horrifyingly monolithic face of power and saying, "No."
Lots of people think that these books are about a love triangle. People who understand the books know that's not even close to being true.
Thank goodness, thank the spirit of the Mockingjay, that the filmmakers who are doing the movies also understand that. So far they are 2 for 2, in my opinion, in not only doing justice to the books, but in lovingly rendering them in new ways that illuminate all that's great about them. Bravo.
Nov 26
Not Iambic….Do Not Accept…

These tags I'll pop, and boast in rhyming verse
that what I wear puts swagger in my gait;
though twenty shillings have I in my purse,
my self-esteem and manhood both inflate
when lofty furs I purchase for a cent.
Thy grandpa's clothes are worthy salvage, though
they smell a trifle musty. Still, I spent
much less to dress myself from head to toe.

To save or not to save? The question's moot.
I'll never give my coin to high-street crooks.
These dusty shelves will yield their hidden loot
to those, like me, more frugal in their looks.
Like ancient coins washed up on distant shores,
I'll find my treasures in these thrifty stores.
     - Macklemore, "Thrift Shoppe"

*Crying with laughter*

ITS IN IAMBIC PENTAMETER. SWEET JESUS THIS IS MY NEW FAVORITE THING.

THIS IS THE MOST BRILLIANT POSY I HAVE EVER SEEN.

Guys, that's not only Iambic, that's a fucking sonnet. *claps*
(via itemfinder)
[video]
Nov 25
[video]
Nov 17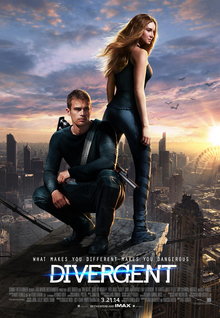 Okay, people.
Get ready for some RAGE.
THIS POSTER ANGERS ME GREATLY
Why is 4 even on this poster? He is not actually that important to the story of Divergent.
Why is Tris facing backwards, with her butt and boobs a-glow, and her hair waving in the breeze, in a totally weak-looking, non-confrontational stance, while 4 kneels, gazing straight forward, looking strong and powerful?
Seriously, do the people who made this poster have literally no idea what the books are about????
Here are the acceptable options for what this poster should have been, which I would draw for you if I had a smidgen of visually artistic talent, which I don't:
1. Tris, just her upper body/face, in her Abnegation garb, but with maybe  a hint that she's going to change, like she's taking off the gray robe and there's black clothes underneath
2. Tris, in full Dauntless garb, staring straight into your eyes like she's going to kill you. 
THAT'S IT.
Well, maybe not. There might be something else cool that I haven't thought of.
But basically, in conclusion:
THIS POSTER IS NOT ACCEPTABLE
IT IS AN EPIC FAIL
IT IS A BLIGHT UPON THE LAND
IT SHOULD NOT EXIST